April 20th, 2016 started like most any other day. My husband was using comp time so that he could have the day off and go to my midwife appointment that afternoon.
I was 38 weeks 6 days pregnant. The most pregnant I have ever been. Baby #3 was born at 38 weeks 5 days- so I was starting to feel like I was going to be pregnant forever. I knew that we had plenty of time before baby #4 might be born but after 3 births that occurred prior to 38 weeks 6 days- it was a bit strange being so pregnant.
I started feeling some contractions that morning but was unsure if they were the real deal. A few days prior I had several hours of what I thought were the real deal and they had fizzled out so I was not getting my hopes up.
I used the breast pump for some "stimulation" to see if they would get more consistent but was skeptical. I actually ended up deciding to run some errands- a nearby consignment store was closing and had some great deals so I went and tried to ignore how I was feeling. I found some awesome deals (including a cute dress for Kasey for 1.00!)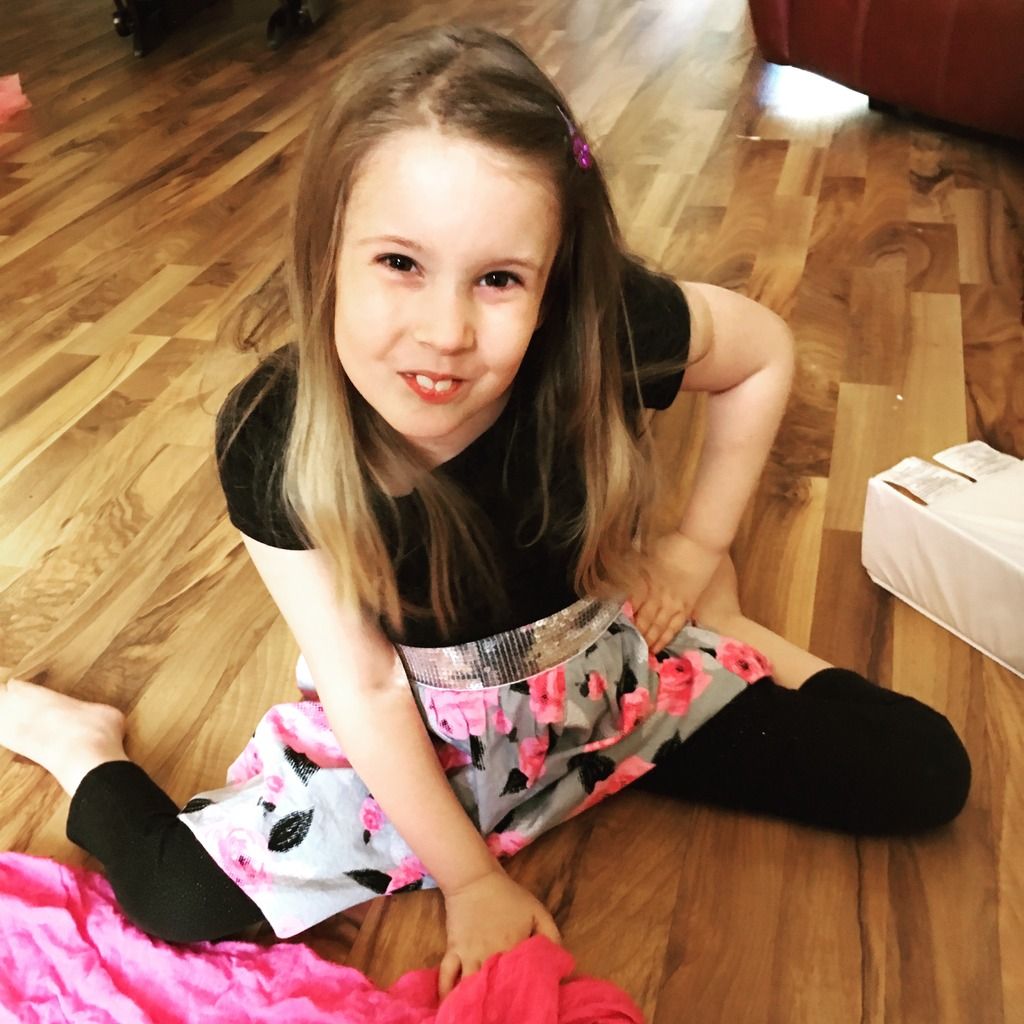 (because I know everyone wants to see the cute dress I found!)
As I finished up my shopping, I was feeling really flushed. I assumed I was just overdoing it and needed to go get something to drink. Instead of continuing on with my errands I headed home to hydrate and cool off prior to my midwife appointment.
On the way to my appointment I started realizing that what I was feeling were most likely the real deal. After all, it was now almost 2 pm and I'd been feeling them since around 10 AM (if I remember correctly- I have it written down somewhere). My midwife agreed and sent us back to our side of town- I insisted on going to Target to get some last minute stuff and to walk. I was in no rush to go home because after all- labor was going to take quite awhile once it got going. I mean- my VBA2C with my first son was 27 hours from start to finish. I kept telling hubby there was NO way it would be that much shorter.
My midwife told me to just let her know when I was ready for her to come over. I didn't want her having to hang out at my house too long if labor was slow.
We got home from Target around 3:55 pm. I wasn't bothering timing contractions since I didn't think they were that close yet. I did go ahead and take a final belly picture just in case I didn't get a chance the next morning (because I was still assuming it would be the 21st before he was born).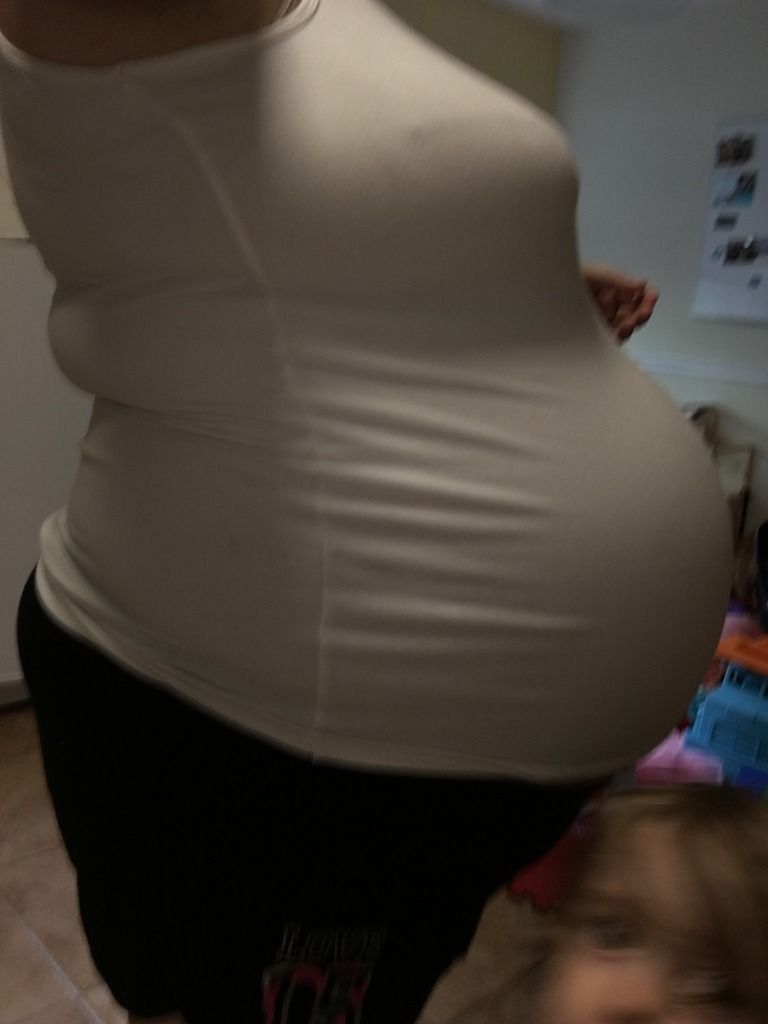 (I was the biggest this last pregnancy I have ever been.. I was not very happy about this fact but creating life is still awesome!)
At 6:35 pm I texted my friend that I was going to attempt to nap to pass the time and get some sleep. I had been timing contractions and thought it was getting closer but wasn't sure.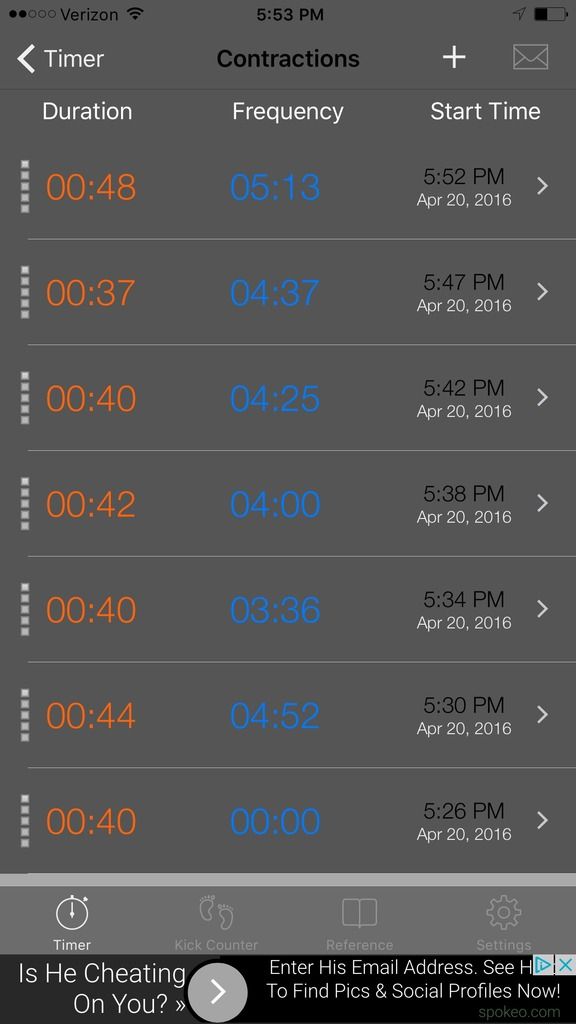 I was still worried about calling the midwife too soon.
At 6:44 pm- my water broke. I can still vividly remember feeling him stretch, kick and suddenly my bed being soaked. I told hubby to grab a towel quickly because I didn't want to soak the bed (which did have layers of plastic and sheets so the bed wouldn't get ruined). At this point I let the midwife know my water had broke. She told me she was on her way. I still thought we had awhile.
At 7 PM I told my friend I'd message her again when baby Rowan was born. Right before the midwife arrived- the contractions really kicked it up a notch. Now that there was no extra fluid in there to disguise his movements or pad the contractions- I was feeling every movement as he "dropped."
Around 7:58 or so- I had the midwife check to see how dilated I was. The only cervical check I had my entire pregnancy- actually thinking about it- I'm not sure it counts since when she reached down to check- she informed me he was past the cervix already and she could feel his head RIGHT THERE. I was shocked- I knew I felt like pushing but since I never felt pushing with any of the others.. I was afraid of pushing too soon and wearing myself out.
5 minutes of pushing and he was born at 8:05 pm. Less than 12 hours from my first contractions. Less than half the length of my previous labor. My 2nd successful VBA2C- and this one was my first homebirth.
9 lb 2 oz. 22 inches tall. My biggest baby- and he's continued the trend.
First picture after birth: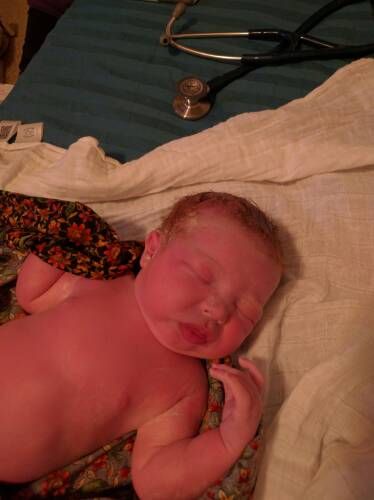 A little over 3 months later:

He's my ginger little butterball. He's in 9 and 12 month clothing. Currently still in disposable diapers although we'll be switching back to cloth diapers soon. He has the nommiest little cheeks and the cutest little smile. He's adored by all 3 of his big siblings although Renly is definitely his biggest fan.
Definitely my best birth out of the four kids<3