One of my big goals with Kasey this school year is to get her reading. She has known her letter sounds for quite awhile but has been struggling with the process of sounding out words.
While we have been working on sounding out beginning CVC words, I also wanted something to specifically focus on one word family at a time for multiple days. I knew I could make something myself but with four kids- my time is valuable and I wanted something already put together.
Off to Pinterest I went!
That is where I found the R.E.A.D Curriculum Notebook. It fit the bill perfectly- one word family a week is focused on. Each week there are also two to three sight words as well. It goes over digraphs and blends. It is meant to be used 4 days a week for 36 weeks. Every fifth week, it focuses on beginning blends instead of a word family.
I made the plunge and purchased it for $25.00- which is an awesome price considering what is included.
The first thing I noticed when I downloaded it was that it comes with a curriculum overview to help you with planning:

I love this because I am horrible at planning this type of stuff out. I'm more of a fly by the seat of my pants type teacher.
The next thing in the "packet" is a detailed explanation as to what is worked on each day. This is useful when you go to organize everything for each week:

Kaseys favorite thing on Mondays is the Blank Word Family Template- she likes using it with playdough or clay. It doubles as fine motor practice time as well. In this house, that is always a bonus!


(I swear she enjoyed doing it- apparently I snapped a picture when she was distracted by something else)
One of the suggested things in this curriculum is to start a notebook or lapbook that contains certain activities on Tuesdays and Thursdays each week. However, I wanted to implement this throughout the week- so we took the sight word cards, handwriting work and etc. into the notebook as well.
Once I printed out the first 5 weeks of R.E.A.D., I sorted it by week into manila file folders and paper clipped each days work together.

Here are two examples of Tuesdays worksheets for one of the word families: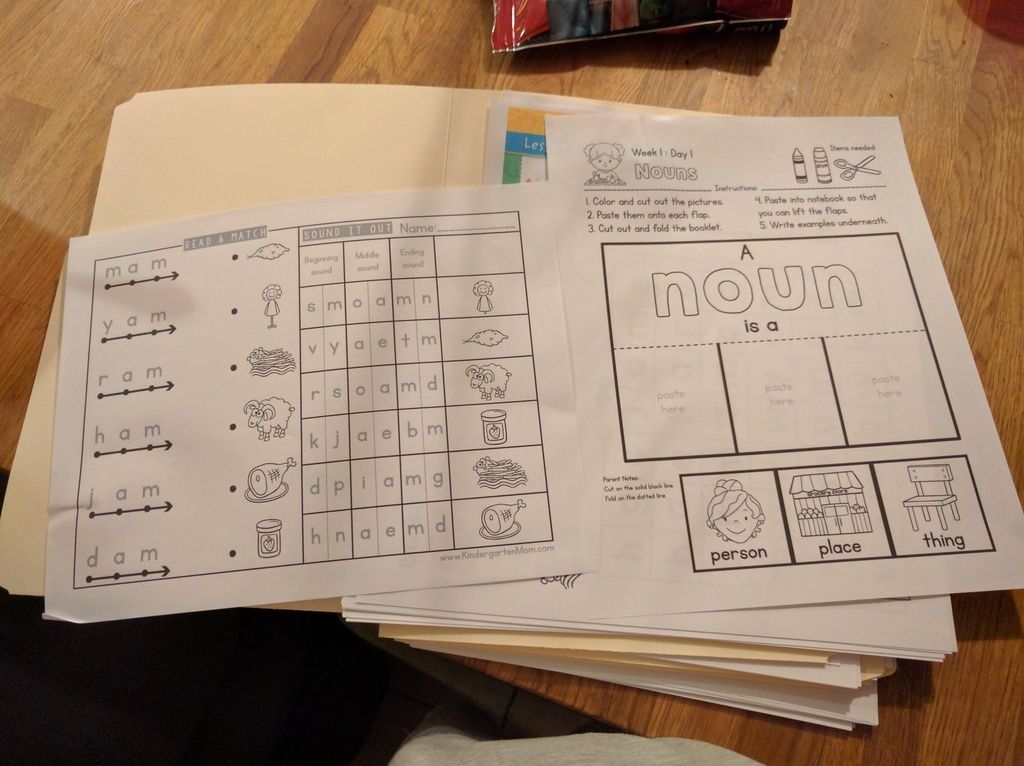 (For some reason that picture refuses to turn no matter what I do).
Every fifth week, the lessons switch from a word family to 4 new beginning blends. This is week 5's beginning blends:

The first page of each weeks lesson is super colorful. Kasey loved looking at the different words and their pictures for each lesson.
We've only been using this curriculum for a little bit but so far are impressed. It contains 785 pages (which is a lot to print at once so I'm doing a few weeks at a time). When your child is done they will have a 60 page interactive grammar notebook (although we are adding other stuff to it as well so ours will be longer). There are daily warm up activities, science sequencing and drawing activities and weekly writing prompts.
This is all great for hands on learners. There is cutting, gluing, playdough, coloring and handwriting practice- all of which is good fine motor practice.
We are pleased so far - I will update in a few months with how we feel midway through.
*I am not affiliated with the creator of this product in any way- I just found her website and wanted to share my thoughts. She has other products for teaching the alphabet, Bible, geography, etc. She even has some things on science/the color wheel.
The Crafty Classroom is currently doing a sale on this and her ABC bundled for 36.00 instead of 40.00.